Spring 2020 Program Dates
In-person Education Program Planning meetings have been cancelled this spring semester. We will update this page if we decide to schedule Program Planning meetings remotely via Zoom.

 
Urban Teaching Applications
We are currently accepting Spring 2020 Urban Teaching applications on a rolling basis until Monday, March 30, 2020. Please visit our Urban Teaching page to learn more about our teacher certification tracks and how to apply. Completed applications can be sent via e-mail to Pati Argueta-Medina at pargueta@barnard.edu.
Education Studies Declarations
We are currently accepting Spring 2020 Education Studies Declaration forms on a rolling basis until Wednesday, April 1, 2020. Please visit our Education Studies page to learn more about the track.
Past Events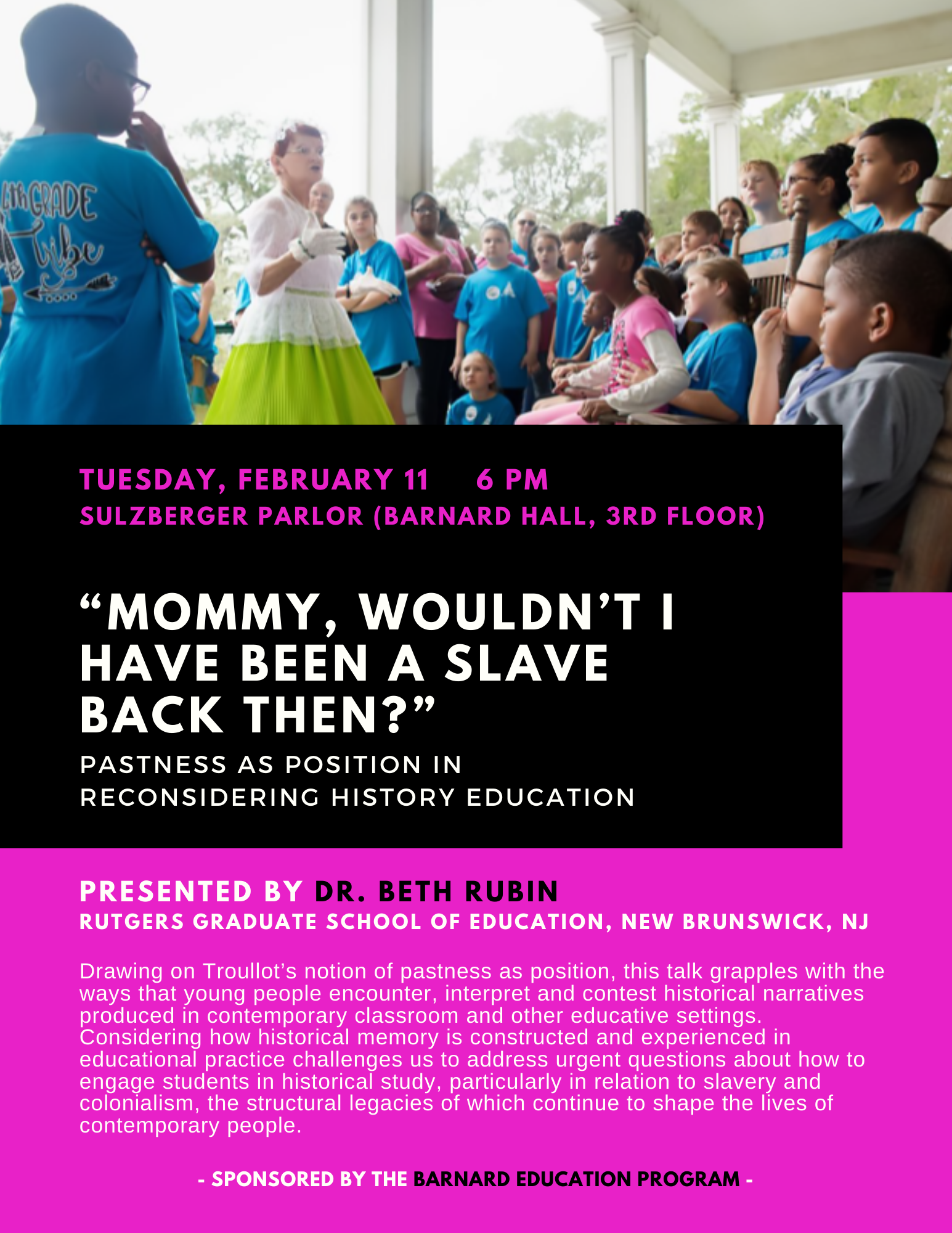 Monday, April 22, 2019 @ 6 PM
Sulzberger Parlor, Barnard Hall
YOUTH ASPIRATIONS IN EXILE: Participatory action research in Kakuma Refugee Camp
Presented by DR. MICHELLE BELLINO
University of Michigan School of Education, Ann Arbor, MI
Drawing on ethnographic and participatory methods, this study examines schooling as a lens into daily experiences of (non)citizenship in Kenya's Kakuma Refugee Camp, where youth lack legal status and experience habitual threats to inclusion, but nonetheless comprise members of civil society with agency and rights to uphold. As youth navigate precarious openings for education, work, and migration, the choices they make underscore economic and social status considerations, while working to be seen by others as productive nation-builders in exile. Set within these constraints, youth researchers employed the tools of youth participatory action research (YPAR)—not to challenge systemic inequality, but to reinforce meritocratic scripts. Initially, youth designed a research inquiry that upheld narratives of education as a vehicle towards upward mobility. Following secondary school completion and confronting the gap between their aspirations and the opportunity structure, they developed critiques about how opportunities were distributed locally, nationally, and globally. Yet even as they began to make claims on the global community for more equitable access to educational opportunities, youth co-researchers strategically reasserted the logic of educational meritocracy, rationalizing that ranked systems benefitting a few to the exclusion of the majority were reasonable and just in contexts of scarcity. In line with the culture of personal advancement promoted in schools, they reasserted aspirations to become individual exceptions within a system of schooling that sorted, selected, and excluded the vast majority. The study illustrates the ways that globally circulating ideologies such as individualized competition, embedded in imported Western models of schooling, impeded our capacity to forge a collective identity as Kakuma youth.
Wednesday, March 27, 2019 @ 6 PM
James Room, 4th Floor, Barnard Hall
YOUTH MIGRATION, EDUCATION, AND MEGA CITIES: Promise and Peril in Karachi
Presented by DR. DANA BURDE
New York University, New York, NY
Climate change, conflict, and the pursuit of better life opportunities push rural youth to migrate to urban areas. Between 2008 and 2014 climate-related disasters displaced an estimated average of 22.5 million people each year or approximately 62,000 per day, with most displacements occurring in places with weak political institutions (Koubi et al 2018, 2). In Pakistan alone, the 2010 floods affected an estimated 20 million people from an area the size of England (The Guardian, 27 January 2011). Millions of people were displaced in some of the most volatile areas of the country. Many rural Pakistani youth also migrate to urban areas to seek better life opportunities, including and especially education. In Karachi, these youth add pressure to already strained government services including the overloaded education system, exacerbate the existing youth bulge, and potentially increase urban volatility. Yet despite the important role youth play, we know little about youths' experiences in these urban environments, and how they describe the challenges they face. This talk investigates youth experiences with the education system in Karachi in the face of these challenges, seeking to understand better why youth leave home, what their hopes are for their new urban lives, and how they try to address the challenges they face. From 2012-2014 I conducted 80 in-depth interviews with in-school and out-of-school youth (boys and girls) between the ages of 17 and 22 who were indigenous to the city and who migrated from rural areas to Karachi. These youth offer a sophisticated commentary on the promise and peril of the city, calling for equity in education and offering suggestions for policy change. Understanding these youths' stories is a crucial first step toward systematically enhancing education services for youth in mega cities, easing the strains of migration, and strengthening the promise youth hold in these contexts.
Tuesday, February 12, 2018 @ 6 PM
James Room, 4th Floor, Barnard Hall
SPEECH OR SILENCE?: Citizenship and Childhood in Contemporary Schooling
Presented by DR. ARIANA MANGUAL FIGUEROA
Rutgers University, New Brunswick, NJ
In this talk, Dr. Mangual Figueroa draws on a decade of ethnographic research alongside mixed-status Latino families living in the U.S. to examine students' decisions to disclose or disguise their legal status in school. Centering the various experiences of immigrant-origin students from Latin America, Mangual Figueroa argues that an analytic focus on how and when elementary-aged students talk about migratory status during everyday school activities can deepen our understanding of the educational experiences of a population that often remains invisible to teachers and educational researchers. The talk opens on to a broader conversation about how and when immigrant-origin students begin to confront the realities associated with their legal status, and provides new insights into the relationship between legal citizenship, public schooling, and childhood socialization in the contemporary U.S. context. Mangual Figueroa suggests ways in which researchers and educators can foster educational equity and inclusion for undocumented students across K-12 schooling and in higher education.